Convenient Location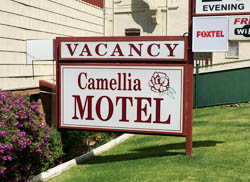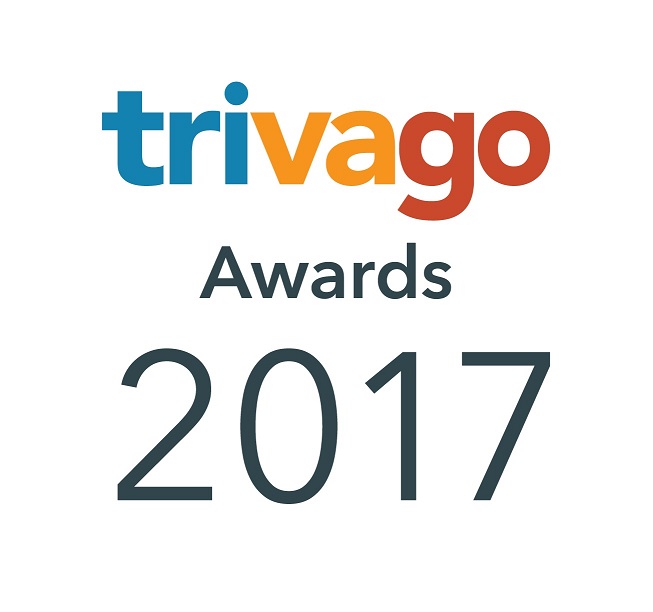 | | |
| --- | --- |
| Via Newell Highway - | |
| Brisbane | 1253 km |
| Coonabarabran | 582 km |
| Dubbo | 422 km |
| Forbes | 247 km |
| Finley | 144 km |
| Gilgandra | 489 km |
| Goondiwindi | 925 km |
| Grong Grong | 23 km |
| Jerilderie | 109 km |
| Melbourne | 432 km |
| Moree | 800 km |
| Narrabri | 701 km |
| Parkes | 281 km |
| Shepparton | 252 km |
| Toowoomba | 1119 km |
| West Wyalong | 140 km |
| | |
| Via Sturt Highway - | |
| Adelaide | 849 km |
| Albury | 166 km |
| Canberra | 341 km |
| Hay | 172 km |
| Perth | 3387 km |
| Sydney | 565 km |
| Wagga Wagga | 95 km |
| Yass | 281 km |
| Barellan | 58 km |
| Cootamundra | 156 km |
| Deniliquin | 203 km |
| Finley | 144 km |
| Leeton | 28 km |
| Griffith | 96 km |
| Mildura | 462 km |
| Nowra | 484 km |
| Orange | 257 km |
| Swan Hill | 392km |
| Tamworth | 744 km |
| Young | 200 km |

Contact Us
80 Newell Highway (Whitton Street )
Narrandera, NSW 2700 [map]
Call Us
Phone: (02) 6959 2633
Great Reasons to
Stay With Us
| | |
| --- | --- |
| | Free WiFi Internet |
| | All rooms are non-smoking |
| | All rooms are air-conditioned & heated |
| | Designated car park at each door |
| | Room service breakfast |
| | Clean modernised rooms with good beds |
| | Swimming pool with BBQ facilities |
| | Short walk to restaurants, cafes and licensed clubs |
| | One & a half blocks to supermarket & liquor store |
| | Centrally located & close to all shopping |
| | Easy access to main highway for travellers & rep's |
| | 2 mins to Narrandera town centre |
| | 3 min drive to the hospital |
| | Closest accommodation to golf club and racecourse |
| | Narrandera airport 7.5 klms |

Accommodation Narrandera - Camellia Motel
Welcome to our motel
The Camellia Motel is conveniently located accommodation on the Newell Highway at the northern end of Narrandera a few minutes from the junction of the main highways to Melbourne, Sydney, Perth (via Adelaide) or Brisbane and walking distance to the main shopping/dining area.
A little gem situated on the Newell Highway at Narrandera
Opposite a leafy open park, the warm welcoming ambience of our recently renovated motel offers clean, cosy & inviting accommodation. The all ground floor units are non smoking and have designated parking outside each.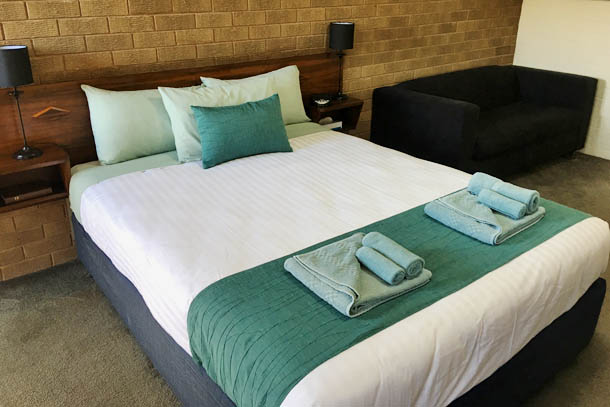 Choose from the room service breakfast served at a preferred time in the morning or the convenient choice for early departures which is delivered the evening before.
Only a short stroll to the local main shopping area, clubs, restaurants, cafes and also ideally situated as the closest motel to the Golf Club & Racecourse.
A diverse range of well appointed accommodation units to suit visitors to the Riverina, the corporate rep or passing traveller.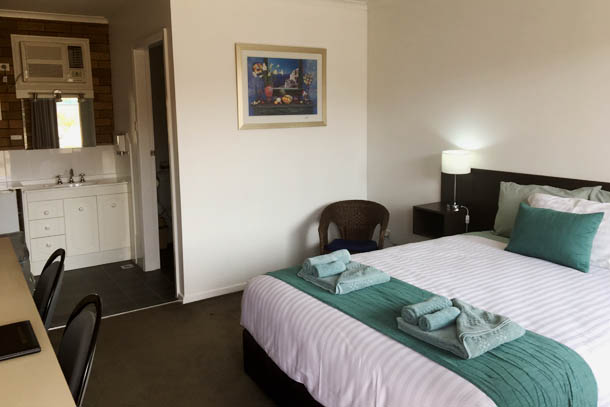 About Narrandera
Narrandera is located 549 km Southwest of Sydney and 428km Northwest of Melbourne at the junction of the Sturt and Newell Highways. Narrandera is situated between the two major regional cities of Wagga Wagga (99kms) and Griffith (98kms). There are direct Flights daily to Sydney and Country Link Rail Services to both Sydney and Melbourne.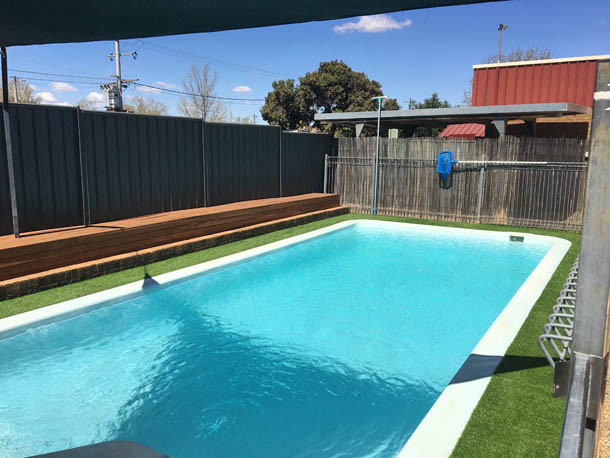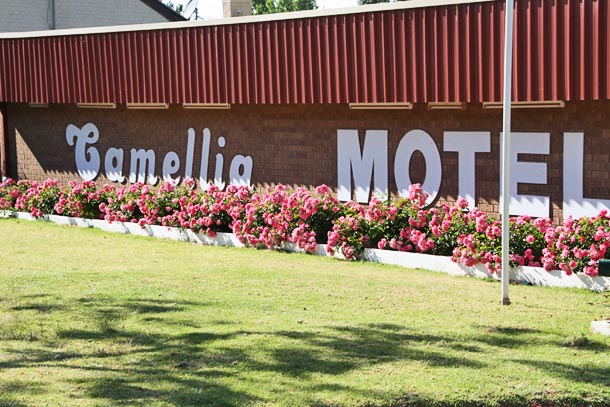 We look forward to welcoming you to the Camellia Motel